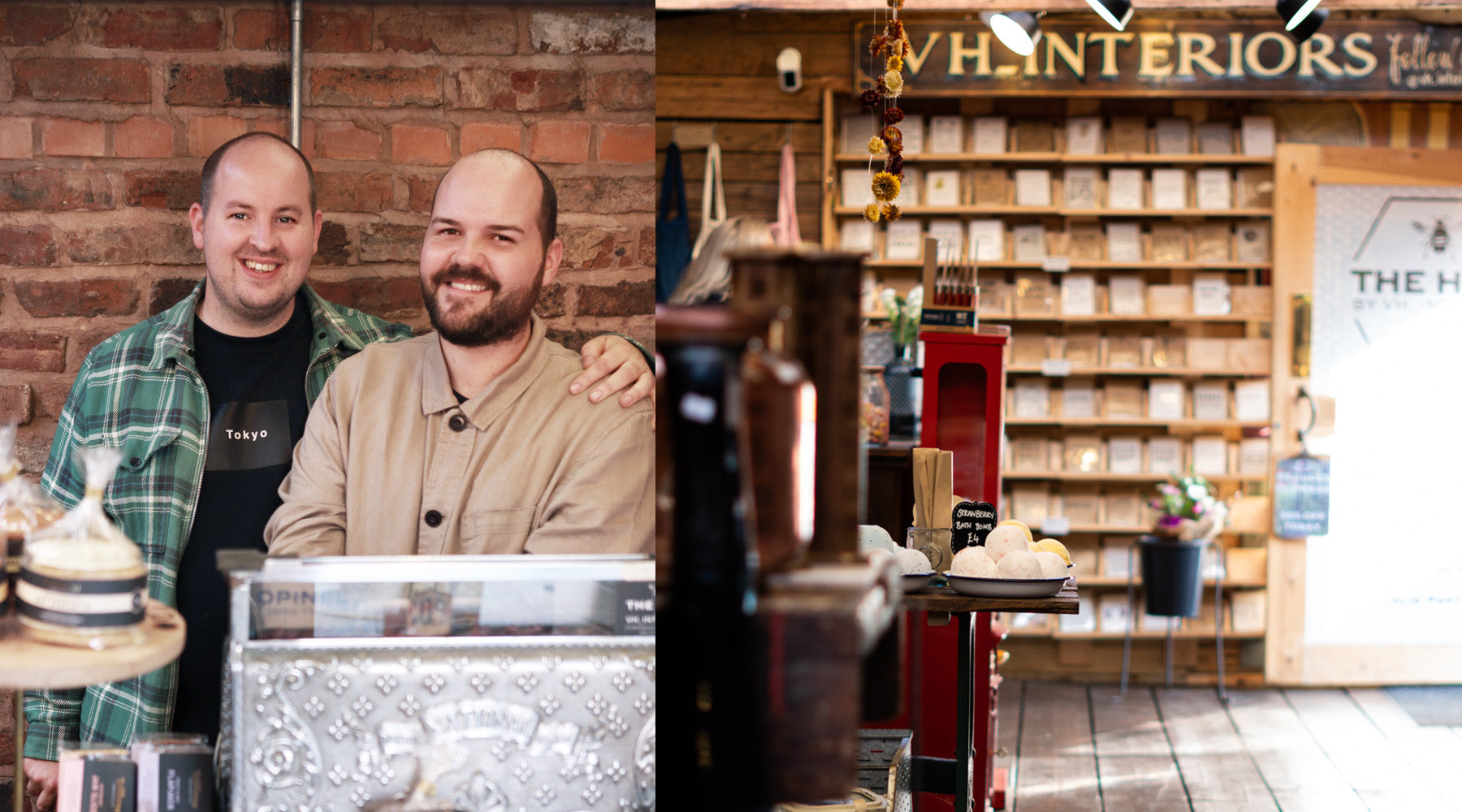 Altrincham's Hidden Hive
We recently went on a little road trip to Altrincham to visit one of our newer Stockists, The Hive by VH Interiors. Run by Steven and Gareth with help from Steven's mum Wendy, the store has undergone some changes over the past couple of years, and is now a General Store and Beverage Bar.
Who are you and how did VH interiors start?
We are Steven and Gareth and we have been partners for almost 16 years.
VH interiors started in 2015 on Altrincham Market with nothing but a 6ft stall to display our upcycled and vintage wares.

What's your favourite part of running the business?
Without any shadow of doubt it has to be the people we meet!
Retail is a funny business where customers will sometimes tell you their life stories whilst in your shop. We have discovered so many wonderful places to travel, eat, explore and things to enjoy, all from speaking to our customers. Some customers live further afield and some literally live two doors down from the shop. Some of our customers have become life long friends too! That's why meeting people is our favourite part of running our business.

How has the business developed since you started?
When we started our business on Altrincham Market, we purely sold upcycled and vintage furniture and curios. We added another location in Altrincham in 2018 which we called The Hive and added some hand made pieces which sat well with our aesthetic.
During the first lockdown of 2020 we decided that we wanted to focus our attentions solely on The Hive and decided to leave Altrincham Market after 5 years.

This is where the biggest changes in our business began. We added carefully chosen products to sit alongside our vintage pieces, renovated The Hive and rebranded as a General store.
We also added a coffee trailer to the outside of our shop where customers could sit and enjoy a beverage before or after enjoying some retail therapy.
These changes have helped us welcome new customers to The Hive and create a destination space away from the hustle and bustle of the high street.

Any future plans?
Absolutely! Our plans are to expand the coffee side of the business in to a bricks and mortar coffee shop that joins on to The Hive.
We feel that there is a wonderful community surrounding The Hive and we want to offer our customers a little bit of escapism from a hum drum high street.
Whether they come to our shop to purchase a vintage piece of furniture for their home, a gift for a family member or simply want to enjoy a coffee with a friend, we want The Hive to allow people to enjoy the therapeutic side of retail therapy.
The Hive is open Tuesday to Sunday.
Tel: 0161 317 2402 Email: thehive@vhinteriors.co.uk 
32a Grosvenor Road
Altrincham
WA14 1LA